Foreword
Innovation has long been at the heart of humanity's progression and growth. In an ironic twist, it is now the key to our survival. Climate change and disease do not discriminate between borders and the necessity of collaborative innovation efforts to meet these challenges is now clearer than ever.
Over the last two years, governments have been faced with the need to construct agile models and drive innovative solutions across borders to mitigate the impact of increasingly unpredictable global threats. Now is the time to consider how best to facilitate an innovative global community to take on humanity's greatest threats with new vigour.
In my experience, the shared challenges associated with an era of rapid environmental, social and economic change are best tackled when innovators work together, leveraging one another's expertise, capabilities and resources. Only through cross-border collaboration can we achieve truly impactful regional and global innovation.
This report, the third and final in the series, is timely. It sets out some of the key examples of how governments are collaborating on innovative approaches to collectively deliver genuinely impactful cross-border solutions. Importantly, the report provides recommendations for governments to drive the evolution of public sector innovation globally.
When it comes to cross-border collaboration, we need to think about initiatives on both a regional and global level. This helps us to identify how various solutions can protect against challenges such as the socio-economic risks caused by the instability of deteriorating natural environments and extreme weather events.
Unsurprisingly, some of the best examples of global collaboration efforts are in the field of climate change, the world's most pressing challenge. For instance, the CivTech Alliance project involves policy makers from across Europe, North America and South America, and aims to develop a high-impact scaling programme for climate tech companies, enabling them to receive funding and advice to increase the global impact of their innovations.
Some of the most impactful innovations are born from partnerships between neighbouring states facing common challenges, such as the impact of climate change on a particular ecosystem that extends across countries. The OFIDIA2 wildfire mitigation programme between Greece and Italy comes to mind.
The most impactful innovations are highly targeted. Identifying specific sectors for collaboration can maximise the impact of innovations by ensuring that the optimal stakeholders, talents and skills are engaged and adequate resources are drawn upon. In healthcare, there are strong examples of multiple public health stakeholders working together to unlock the potential of global cross-border collaboration to jointly deliver health services to citizens of numerous countries.
All these initiatives are characterised by a common will between governments to share experiences, resources and knowledge to deliver mutual benefit. It is promising to see policy makers from across regions collaborating with such energy and readily willing to share.
As global resources become more stretched amid ongoing economic headwinds, it is increasingly important that we seek efficient ways of achieving impactful innovations. And every country has a role to play. Developed nations yet to actively participate in cross-border innovation efforts must ask themselves why they are sitting on the side-lines – and what is the cost not just for the population but for the wider region and the global community?
We have a collective responsibility to enable impactful cross-border solutions as we navigate unpredictable climatic, political, economic and social challenges. The case studies in this report indicate a shift in how governments are working together to achieve common goals, not least the SDGs.
But there is room to improve, and we must redouble our efforts to crack impactful cross-border innovation. We must continue to ask ourselves: how do we want the future of cross-border innovation to look and how can we achieve it?
In my personal experience, as a public employee of the UAE Government, I have witnessed first-hand the far-reaching benefits of cross-border collaboration as part of a wider strategy to create impactful innovations.
It is vital that we document and evaluate the outcomes of these efforts to build an accurate picture of the world's innovation landscape and learn how it can be improved. In this way, OECD's and the MBRCGI's reports play a vital part in empowering impactful transnational innovation and ensuring humanity has the tools it needs to meet tomorrow's challenges.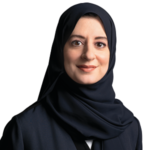 HE Huda Al Hashimi
Deputy Minister of Cabinet Affairs for Strategic Affairs at the UAE Government
Introduction
Hands-on delivery and implementation represent the culmination of the different types of initiatives, structures and mechanisms uncovered in the work conducted by OPSI and the MBRCGI. Likewise, governments are putting in place cross-border enablers to allow for collective design and implementation of innovative policies and services, which can also support all of the topics covered in this series of reports.
This work has led to the identification of three leading governance approaches and associated case studies, as discussed below.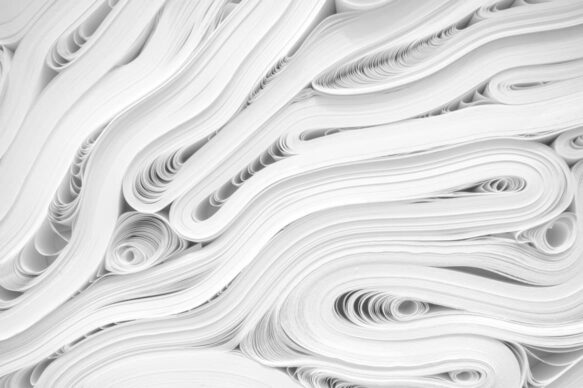 Theme 1
Delivering joint cross-border policy and solution-oriented services
The first two reports in this series highlight the growing engagement of governments in developing innovative approaches for cross-border collaboration, but in many cases, implementation remains limited. This final report examines collective policy and service implementations that are actively dealing with cross-border issues. These efforts pick up where the second report left off: taking small-scale tests and experiments and scaling them into more fully implemented policies and services that have the potential for systemic impact.
Effectively implementing cross-border solutions is complex matter and often requires tailored approaches and novel legal procedures. The research has identified a variety of innovative cases where new approaches are being adopted and where initiatives are generating impacts. Identified efforts tend to be clustered around specific global challenges (e.g., environmental sustainability, co-operation in health services and protecting vulnerable groups). Some governments are also trying to create more systemic frameworks for innovative cross-border action.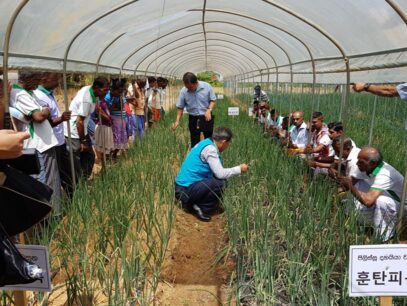 Case Study
Korea Program on International Agriculture (KOPIA)
An innovative development co-operation platform and global partnership through which the Korean government supports the agricultural development of partner countries. It leverages Korea's experience in developing agri-tech solutions, such as virus-resistant seed varieties, in order to develop customised solutions in collaboration with partner countries. Its objective is to increase the productivity and income levels of local farmers, their families and their communities. Recently, KOPIA has developed an innovative platform to share valuable lessons and experience from its 22 active projects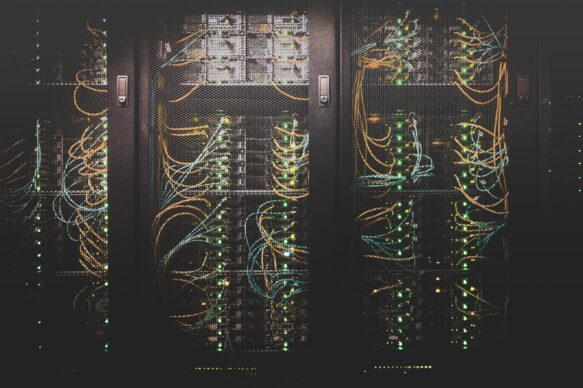 Theme 2
Digital architecture enabling cross-border innovation
One of the most common types of cross-border efforts involves the exploration of seamless cross-border digitally enabled services and collaboration mechanisms. This digital focus also surfaced in the research with academic journals, blogs and other sources reflecting a heavy emphasis on digital concepts relative to other types of efforts (e.g. governance bodies, experimentation methods).
The need for digital innovation has become even more pressing in the context of the COVID-19 pandemic. Co-ordination across borders and jurisdictions has been critical for supporting knowledge sharing and standards around issues such as vaccine supply and administration. However, cross-border elements also complicate the pursuit of innovative digital solutions. This has pushed governments and their partners to create innovative data-sharing arrangements and interoperable architectures to allow their digital efforts to scale beyond borders.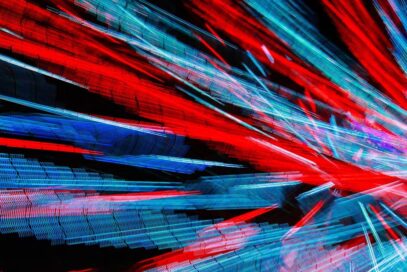 Case Study
X-Road Trust Federation
Estonia and Finland are exchanging interoperable data across borders via an X-Road Trust Federation, which joins each country's national data ecosystem. Now, the two systems communicate with each other in the first international interoperability ecosystem of its kind, facilitating the real-time availability of information on population and businesses in the face of increasing trans-border economic activity. This supports efficiency, effectiveness and a more seamless experience for a range of public services.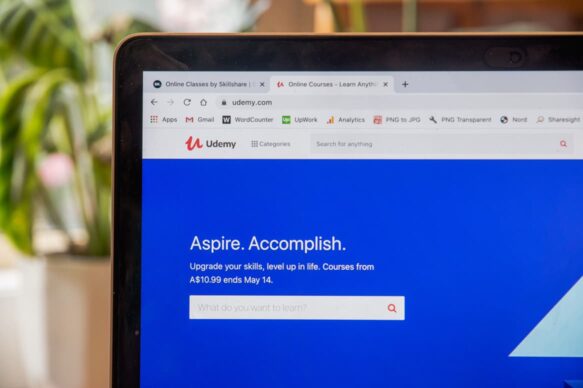 Theme 3
Adding a cross-border dimension to upskilling and capacity building
Despite OECD analysis dating back to 2013 recognising that "special governance capacities are needed for cross-border efforts, particularly to support innovation", such frameworks generally do not explicitly consider or account for building up skills and capacities for cross-border collaboration. However, despite slow progress, the scarcity of best practices and frameworks in this area appears to changing.
This report has uncovered two key ways in which upskilling and capacity building are taking shape in innovative ways across borders. First, new types of skills-transfer programmes are emerging that strengthen bonds among cross-border actors. These prioritise symbiotic transfers of skills and building cross-border cultures of learning. Second, and to a lesser extent, new frameworks and tools have been developed to help enhance skills and capacities specifically on the ability to collaborate across borders.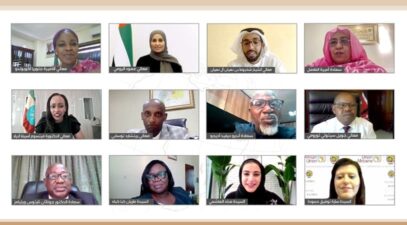 Case Study
Government Experience Exchange Programme (GEEP)
A development and modernisation programme offered by the UAE to governments around the world that aims to create a unified global model for the development of government administration. Its purpose is to share knowledge, skills and experience with to build innovation and excellence capacities. GEEP works with partner countries to design and deliver customised initiatives that align with policy priorities and offer them long-term value. Both the UAE and partner countries learn from each other in ways that can help them achieve their respective goals and priorities.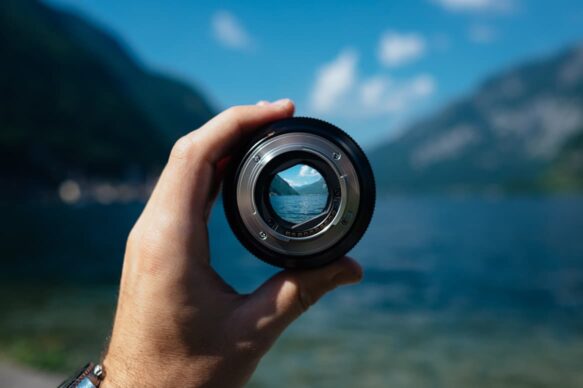 Findings
Unpacking findings and lessons
In our first report, we discussed benefits, challenges, and success factors for cross-border in a broad sense, as well as for innovative forms of governing cross-border challenges. The second report surfaced a number of benefits, challenges, and success factors related more specifically to surfacing insights and experimenting across borders.
This third and final report focuses on different factors involved in governments collaborating and leveraging innovative approaches to collectively deliver and enable impactful cross-border solution. It has been informed by research, a Call for Innovations crowdsourcing exercise, and a series of workshops with experts and practitioners around the world.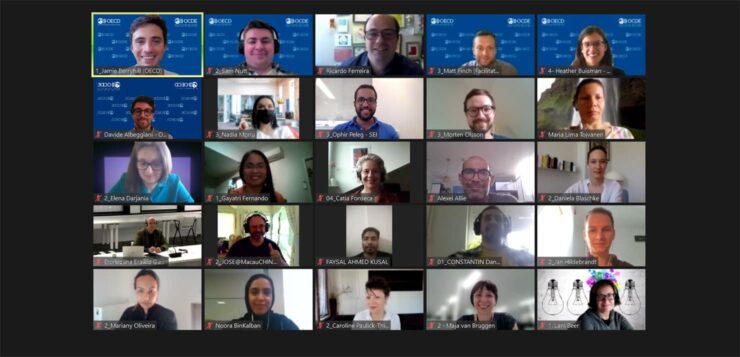 In terms of delivery and its benefits, the implementation of innovative cross-border services represents the culmination of different types of initiatives, structures and mechanisms uncovered in the work conducted by OPSI and the MBRCGI. This is where the full potential for impact can be met and felt by citizens, residents and businesses across countries and jurisdictions. Enabling this delivery and supporting earlier phases of cross-border innovation is critical for sustaining the full lifecycle of innovative efforts in this space, with a particular emphasis on unlocking the free flow of data, achieving interoperability of systems and rules, and fostering the right skills and capacities.
While delivery of innovative cross-border services represents the pinnacle of what can be achieved – alongside ensuring foundational enablers are in place to make this and other cross-border processes possible – to date, there have been little indications of systemic or widespread action by governments towards this end. While the current landscape identified through this series of reports is promising and demonstrates incredible potential, the initiatives and approaches involved remain largely ad-hoc and are not yet designed for long-term sustainability.
Governments pursuing such efforts can benefit from an understanding of the challenges and success factors associated with them. Many of these are a continuation of items discussed in the previous two reports. Common challenges include language and cultural barrier and a lack of information and insights on operations among partners. And success factors that cut across the full lifecycle cross-border efforts include the importance of senior leadership support, agreeing on common objectives and processes to ensure sustainability up front, funding, ensuring stakeholder participation, mutual benefit, focusing on user needs.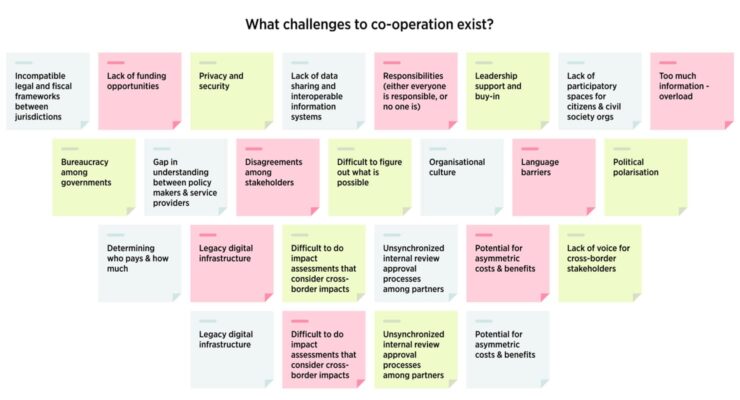 The challenges identified through research, the Call for Innovations cases and workshops help to identify those more targeted to the topics of this report. Most important among these were: a lack of training around executing cross-border projects (the second most-cited challenge behind funding), lack of data and the ability for meaningful interpretation, navigating privacy considerations and lack of a common evaluation framework for implemented projects. The image below shows a fuller spectrum of challenges identified by workshops participants.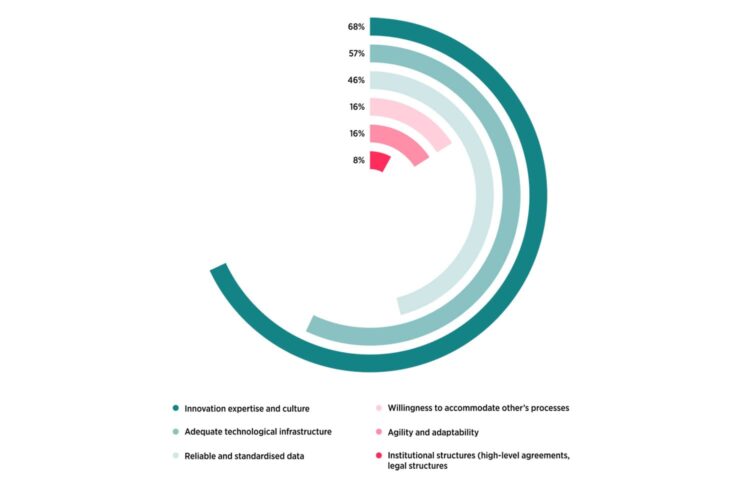 Likewise, success factors critical for support implementation and delivery of impactful solutions and putting in place key enablers for cross-border government innovation were also identified. For instance, ensuring appropriate technical infrastructure and information systems, incorporating interoperable digital identity and working towards non-technical interoperability (e.g. of organisational, political and regulatory factors). The existence of a triggering mechanism to overcome inertia to shift away from the status quo can also assist greatly. An analysis of cases received through the Call for Innovations identified six success factors that appear particularly important in fostering the topics discussed in this report (see image).
Further work is needed to more fully understand the ways in which governments can seize potential benefits and overcome the challenges associated with cross-border government innovation. In the meantime, OPSI and the MBRCGI have developed an initial set of recommendations based on the findings of this report (see below), which governments can use to strengthen their ability to deliver innovative cross-border policies and services, and put in place cross-cutting enablers to help cross-border government innovation flourish.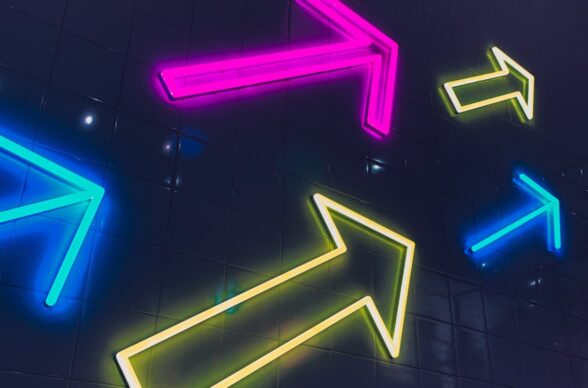 Recommendations
Four key recommendations have been identified for delivering and enabling innovative cross-border solutions
Collectively map out interoperability differences with partners and make plans for how they can be overcome. Early in the exploration and design of cross-border efforts, partners should work together to actively map out areas of potential interoperability mismatch (e.g. legal, regulatory, data, digital maturity, regulation, etc.) and build out a plan for greater alignment.
Pursue a national public sector data strategy to serve as a foundation for progress and maturity in cross-border digital efforts. The strategy should encompass different aspects of data and would contribute to building a coherent approach to data at the national level. It should specifically consider and address provisions related to cross-border data flows, cross-border service delivery (when appropriate), interoperability (both technical and non-technical) and relevant enablers.
Integrate capabilities important for cross-border collaboration and innovation into competency frameworks, training and talent management programmes. Identifying the right knowledge, skills and mind-sets, such as those discussed in this report, is a key first step to developing a civil service (not just a foreign service) capable of playing a role on the global stage.
Leverage the positioning of international organisations and build new structures only when existing ones are insufficient and cannot be adapted. IOs, such as the OECD and the United Nations, are uniquely positioned to help bring about cross-border government innovation through their global networks and supranational visibility of transnational policy challenges and opportunities.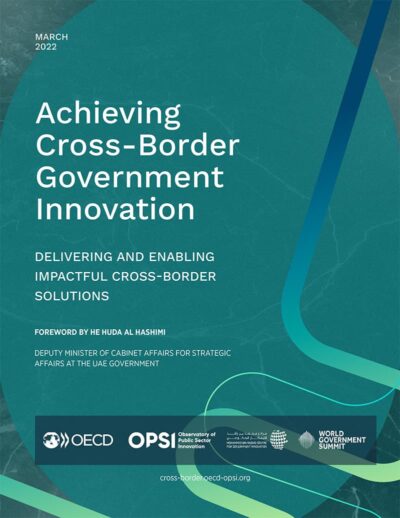 Download Print Report
Delivering and Enabling Impactful Cross-Border Solutions